Cognac was first produced and enjoyed in the 17th century. To this day, the spirit has developed into one of France's most important products. Unlike wine, Cognac is distilled twice and then stored in oak barrels. Various other requirements have to be met before a wine can actually be called Cognac (more on this on our Cognac page). Nowadays, there are many well-known cognac producers and brands. Through these brands and bartenders around the world, countless cognac cocktails have been developed. These can be sweet and fresh (like the French Force) or classic, tart and dry (like the Deauville).
Trending Cognac Cocktails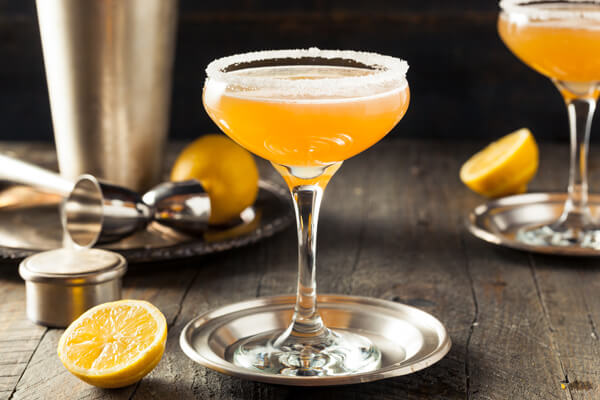 Probably the best-known cognac cocktail is called Sidecar. This drink can be ordered and enjoyed in almost any cocktail bar. The mix of cognac, orange liqueur and lemon juice is once fruity and fresh.
However, the spirit clearly takes centre stage in terms of taste, which is why you should use a high-quality cognac. Try the drink and convince yourself of its pleasant taste. Discover our simple recipe now and prepare the Sidecar Cocktail at home!
What you need to know about cognac cocktails
On the one hand, this is intended to appeal to a new, young target group that would otherwise probably drink rum, vodka, whisky or gin. On the other hand, the older, passionate cognac connoisseurs should be able to experience new taste sensations through cognac cocktails. This strategy seemed to work very well in recent years. There is currently a real hype for Cognac cocktails and mixed drinks. Long drinks with the French spirit are also becoming increasingly popular. The best-known mixed drinks with cognac are the Sidecar and Brandy Alexander. Discover our large selection of cognac recipes and prepare the drinks easily at home. Try them out and discover them now!