Mocktails are a trend that appeared several years ago. Due to the increasingly health-conscious lifestyle of many people, more and more people are giving up alcohol. Nevertheless, these people should not do without delicious cocktails and mixed drinks. That is why mocktails, i.e. alcohol-free cocktails, were developed. These mocktails mainly consist of syrup or juices. However, cream, milk, fruit puree or ice cream are often used in the production of mocktails. Mocktails are usually very sweet and are therefore also very suitable for children. The preparation of this type of cocktail is comparable to "real" cocktails, except that mocktails do without the alcoholic spirit.
Trending Mocktail Recipes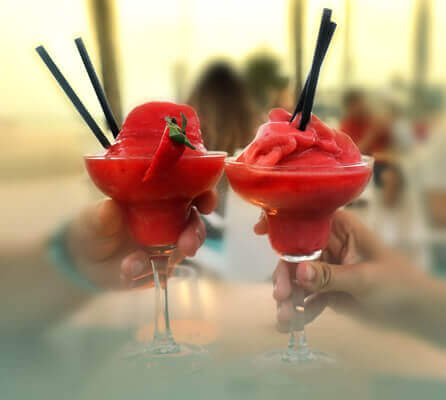 Due to the conscious lifestyle of many people, mocktails have become increasingly popular and well-known. The drinks have a permanent place on every cocktail bar menu and it is impossible to imagine life without them. In addition, there are now competitions that focus solely on mocktails. The best bartenders in the world compete against each other to create the most delicious and tasty non-alcoholic cocktails.
The advantages of alcohol-free cocktails
Non-alcoholic mixed drinks and mocktails are also very refreshing and stimulating. Actually, just like the cocktails prepared with alcoholic ingredients, only without alcohol. Popular ingredients in the preparation of mocktails are juices, lemonades and syrups. These ingredients offer a wide range of possibilities, so that countless delicious drinks can be created.
Mocktails are popular at classic cocktail parties, but also at children's birthday parties or senior citizens' parties. A good host also takes into account the guests who do not want to drink alcohol. It is precisely for these guests that mocktails are an excellent substitute. This way, you can satisfy the needs of every guest and have a celebration that is all the more enjoyable. Nevertheless, mocktails should not be enjoyed too often and in too large quantities. Non-alcoholic drinks usually contain a lot of sugar, so children should "have had enough" after one, or at most two drinks.
Why are non-alcoholic cocktails called "mocktails"?
The word mocktail is made up of the word cocktail (mixed drink) and the English word "to mock". To mock freely translated means something like "to make fun of". Nevertheless, the derogatory name "mocktail" for non-alcoholic cocktails became bar standard and is still used in just about every bar today.
The alcohol-free lifestyle
Due to more and more health-conscious people, the popularity of anti-alcoholic drinks and mixed drinks without alcohol is constantly increasing. In the meantime, you can order drinks without alcohol in various cocktail bars and enjoy them almost without a guilty conscience. This was different a few years ago. At that time, mocktails had a hard time gaining a foothold in the alcohol-dominated cocktail scene. Today, the drinks are prepared with exactly the same attention and fascination as cocktails. And the best thing is: enjoying mocktails is 100% possible without a hangover the next morning.
Of course, a mocktail is not necessarily "healthy". The fruit juices, ice creams and syrups used usually have a very high sugar content. High sugar consumption is of course not "healthy". However, you completely avoid alcohol in the drinks, and that is definitely much healthier than with "normal" cocktails.
Enjoy without a guilty conscience
Mocktails are especially suitable for non-alcoholic connoisseurs who find juice and water too boring in the long run. With mocktails, you too can participate in the impulsive and effervescent bar culture, and all without alcohol. Pregnant women and children can also enjoy mocktails. The biggest advantage of alcohol-free cocktails is that you can do without a hangover the next day. This means that mocktails can also be enjoyed by working people during the week, and without a guilty conscience.
Well-known cocktails without alcohol
There are a number of well-known cocktails that can be prepared completely without alcohol. Try these drinks, for example:
Daiquiri without alcohol
Mai Tai without alcohol
Hurricane without alcohol
Mojito without alcohol
Pina Colada without alcohol
Planters Punch without alcohol
Shirley Temple
Swimming Pool without alcohol
Tequila Sunrise without alcohol
Dry Martini without alcohol
Gin Fizz without alcohol
Tom Collins without alcohol