The Ipanema Mocktail is the non-alcoholic version of the well-known Caipirinha cocktail. This drink is particularly suitable for those who do not want to drink alcohol. We will show you how to prepare an Ipanema very easily and quickly. So what are you waiting for? Discover our Ipanema recipe now and prepare the alcohol-free cocktail at home!
4 cl passion fruit juice
One lime
2 tbsp cane sugar
Crushed ice
Ginger ale
Cut the lime into eighths and place the lime pieces in a cocktail shaker.
Lightly mash the limes with a pestle and then add passion fruit juice, sugar and ice cubes.
Shake everything well and then strain through a bar strainer into a tumbler filled with crushed ice.
Now pour ginger ale to the rim and serve.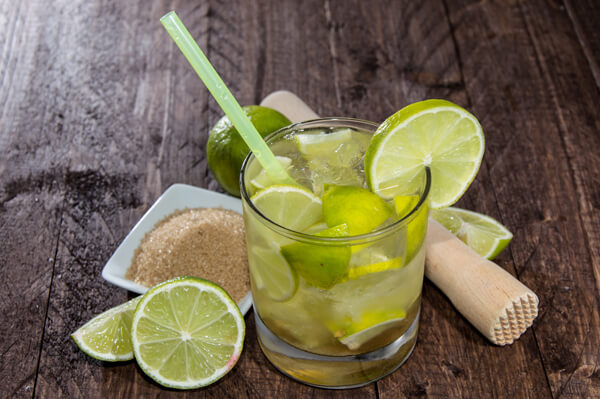 Swimming pool without alcohol
The preparation of this mocktail is quite different from the Caipirinha recipe. For the Ipanema, first cut off both ends of the lime and then cut the citrus fruit into eighths. Put the lime eights into a cocktail shaker and then pour in passion fruit juice, cane sugar and a few ice cubes. Now shake the cocktail shaker well for about 15 seconds and then strain the drink through a bar strainer into a tumbler filled with crushed ice. Now you can fill the tumbler to the brim with ginger ale and serve. And that's it. You can prepare the Ipanema cocktail so quickly and easily!
This is what the Ipanema Mocktail tastes like
The Ipanema cocktail is the perfect interplay of sweet, mild and spicy flavours. The fruity passion fruit juice provides a pleasant interplay alongside spicy ginger ale, which is underlined by the tart, fruity flavour of the lime. Although this mocktail does not taste like a real Caipirinha, it is a very welcome alternative to the usually very sweet drinks you are usually served.
The little Caipirinha brother
A Caipirinha without alcohol is called Ipanema. This mocktail can be described as the little brother of the caipi. The ingredients are almost identical, except that the alcoholic cachaça is omitted here. It is replaced by passion fruit juice. Ginger ale is also added for topping up.
The preparation is also similar to that of the alcoholic basic recipe. First, both ends of the untreated lime are cut off and then the lime is cut into quarters. Then the lime pieces (different from the basic recipe) are placed in a cocktail shaker and muddled. After the sugar, ice and passion fruit juice have been added, the mix is shaken well. The liquid can now be poured into a tumbler filled with crushed ice and topped up with ginger ale. The non-alcoholic Ipanema is ready.