Rum cocktails are among the best-known and most popular cocktails of all. Just like gin, vodka and whisky, rum is one of the best-known base spirits of all. The spirit originated in the Caribbean and gradually spread throughout the world. This development of the international spirit lovers is mainly due to the fancy and tasty rum cocktails. Rum cocktails give the connoisseur a feeling of being on holiday. Mostly, they are fruity and sweet cocktails that are enjoyed by both men and women all over the world. The best-known rum brands include Bacardi and Havana Club. However, there are also countless small and independent distilleries that produce and sell the sugar cane distillate according to historical models.
Trending Rum Cocktail Recipes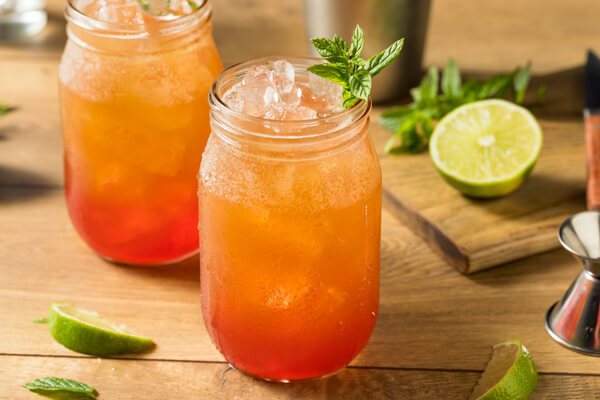 One of the best: Planter's Punch
The Planter's Punch cocktail is one of the few drinks for which there is no set recipe. The long drink is prepared differently from bar to bar and from bartender to bartender. Some bartenders use more rum, others more grenadine or another ingredient to prepare the Planter's Punch. So you may even be served different versions of the Planter's Punch by two different bartenders in the same bar.
The rum cocktail is said to have been prepared for the first time in the mid-19th century. It is a classic rum punch. The drink gained particular popularity through the film "Gone with the Wind". As a result, the drink was ordered and prepared in more and more cocktail bars. Today, the Planter's Punch Rum Cocktail is an integral part of any good cocktail menu. Find out more about the rum cocktail called Planter's Punch here.
Which rum is best for a rum cocktail?
For each rum cocktail, there are different spirits that are better suited to the drink in question. For example, Havana Club 7 Years is excellent for the Daiquiri Cocktail. Myerss Rum, on the other hand, is better suited to the Planters Punch. The Pina Colada is best mixed with j. Wray Gold and the Mojito with Legendario Ron Anejo.
Opinions differ on the Mai Tai. This drink can either be mixed with an inexpensive rum, such as Brugal Anejo, or with a high-quality rum, such as Botucal Reserva Exclusiva. This will allow you to discover even more unexpected flavour profiles. If you want to know which rum is best for cocktails, please visit our rum page. Here you can discover which (in our opinion) is the best rum for making cocktails.
The right glass for a rum cocktail
Which glass you use for which rum cocktail depends on the cocktail you are preparing. If you want to enjoy rum pure, a tumbler or nosing glass is recommended. This nosing glass is characterised by its pear-shaped form, which narrows towards the top. Tumblers or bulbous wine glasses can also be used. The character of the rum is preserved and the alcohol fades into the background.
Daiquiri Martini Glass
Mai Tai Tumbler
Pina Colada Tiki Glass
Planters Punch long drink glass
Mojito copper cup or tumbler
Cuba Libre Tumbler