In the warm summer months, fruity-fresh mixed drinks and aperitifs are preferred. Aperol Spritz, Hugo, Kir, French 75, Bellini and of course the Mimosa cocktail are particularly popular. These drinks have a convincing summery taste and are easy to prepare. On this page we would like to show you how to prepare a Mimosa. We will also show you how the drink tastes and what other special features it has. We hope you have fun discovering and enjoying it!
7 cl champagne (or sparkling wine)
7 cl orange juice
Pour the champagne into a champagne glass.
Pour the orange juice into the glass.
Then garnish with a peach wedge and serve.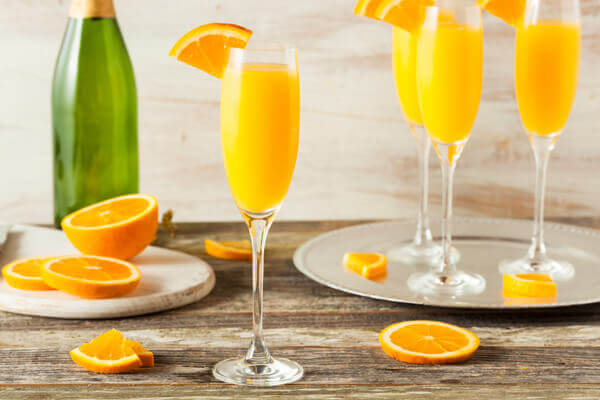 The Mimosa is a very simple cocktail that you can prepare in just one minute. Simply pour chilled champagne and orange juice one after the other into a champagne glass. You can also stir the mixture with a bar spoon. Then garnish the mix with a slice of orange and serve. It could hardly be simpler!
Bar Accessories:
Bar spoon
Champagne glass
Jigger
The taste profile of the Mimosa Cocktail
The Mimosa is a sweet and fresh drink that is mainly served as an aperitif in summer. The taste is sweet and special. It is characterised by the interplay of mild champagne and fruity-sweet orange juice. Alcoholic notes are almost not to be tasted. The drink is refreshing and is also well suited as an aperitif. This champagne cocktail can be served at celebrations, birthdays, anniversaries or even at Christmas.
The Mimosa Cocktail is said to have been first prepared in Spain in 1900. At that time, there was a very high production of sparkling wine (Crémant) in Spain. However, sparkling wine did not yet have the quality it has today. Therefore, people searched for ways and means to make spirits and sparkling wines more enjoyable. These attempts gave rise to famous cocktails such as the Gimlet, Whisky Sour, Bellini, Gin Fizz, Tom Collins and the Mimosa.
In the area around Valencia, people took the oranges that grew regionally and put the juice into the glass together with the sparkling wine. The resulting drink tasted very good to the people. Therefore, they kept trying different mixing ratios to find the perfect taste experience. Buck's Fizz was also invented at this time. In this case, a mixing ratio of 2:1 (champagne to orange juice) was still used.
Over the years, the drink spread around the world. Today, the Mimosa Cocktail can be ordered in various cocktail bars and restaurants. However, due to its simple preparation, the cocktail can also be easily prepared and served at home. Surprise your guests and serve them a Mimosa Cocktail.
A Mimosa is a very popular aperitif made from champagne and orange juice. It impresses with its fruity-fresh flavour profile. In addition, the drink is very easy to prepare and can even be made at home in a minute.
What ingredients does the drink consist of?
The Mimosa is made from a sparkling wine (champagne or sparkling wine) and orange juice. It is best to use freshly squeezed orange juice. This makes the drink taste even fresher.
Simply pour a sparkling wine into a glass. This is then infused with orange juice. If necessary, you can stir the drink with a bar spoon and garnish it with a piece of orange. You can then serve the drink or enjoy it yourself.
How does the drink taste?
The cocktail tastes pleasantly fruity and fresh. It is also very mild, so that alcoholic notes can hardly be tasted. Incredibly refreshing and therefore perfect for spring and summer.