The Chartreuse Swizzle is one of the classic cocktails that are particularly appreciated today by connoisseurs of the cocktail and spirits scene. The drink is directly linked to the Chartreuse herbal liqueur and is a unique signature drink from the manufacturer that dominated the bar scene in the early 1950s. Today, unfortunately, the drink is rarely found in bars. But you can prepare the drink quickly and easily at home. We show you a Chartreuse Swizzle recipe with which you can surprise yourself or your guests!
Chartreuse Swizzle Recipe
4.5 cl Chartreuse Verte
2,5 cl pineapple juice
2.5 cl lime juice
2 cl rum liqueur
Put all the ingredients in a cocktail shaker and add some ice.
Shake well and strain into a martini glass after about 20 seconds.
Now grain it and serve!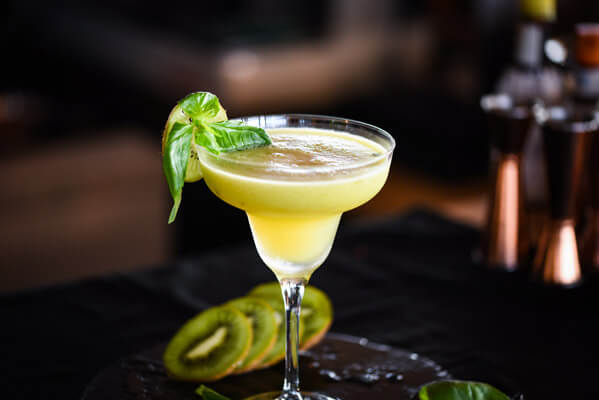 The Swizzle Cocktail is easy to prepare and can be served quite quickly. First fill a cocktail shaker with ice cubes and measure out all the ingredients with a jigger (bar measure). When all the ingredients are in the shaker, shake the barware well for at least 20 seconds. Make sure to shake particularly hard. This will make the flavour particularly smooth. Now strain the drink into a martini glass and you can grit the drink with a lime zest if you like. Then serve immediately or enjoy yourself!
This is what the Chartreuse Swizzle tastes like
In Chartreuse Swizzle, very tart and spicy aromas from the herbal liqueur meet intensely fruity-sweet aromas from the fruit juices. A hint of alcoholic notes and a certain spiciness can be detected. The drink is varied and refreshing, but not a classic summer cocktail as you might expect!