The Aperol Tonic is a very easy to prepare and very popular cocktail. We show you how to prepare this cocktail at home and what you should pay attention to when preparing it. Discover the Aperol Tonic recipe now and see for yourself!
6 cl Prosecco
4 cl Aperol
2 cl soda water
Pour the Prosecco, Aperol and club soda into a wine glass filled with ice.
Stir all the ingredients gently with a bar spoon and add two orange slices to the glass.
Now you can serve the drink or enjoy it yourself.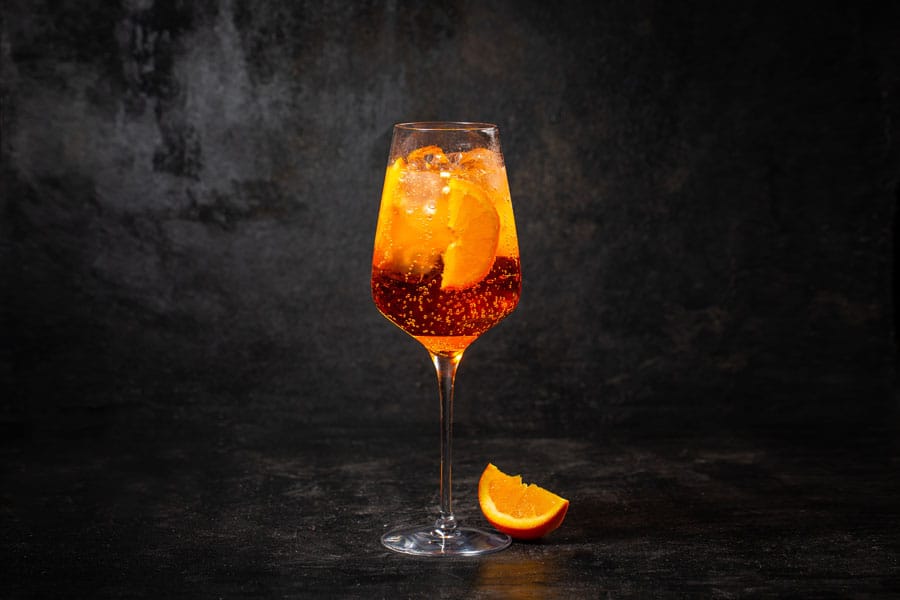 Aperol Tonic - A light aperitif
Have you ever walked through the cities of Italy on a warm late afternoon? No? Then it's high time: young people are sitting on every corner enjoying an Aperol Spritz or a Tonic Aperol. These cocktails reflect the relaxed and not-so-serious attitude to life of the Italians, and they are also incredibly delicious!
Compared to the Aperol Spritz, the recipe shown above uses a little less soda water. Otherwise, there is no difference between the two drinks. They can both be prepared very easily and then enjoyed immediately. Try the Italian cocktails yourself and be surprised by the pleasant and refreshing taste!
What does Aperol Tonic taste like?
Aperol has a bittersweet orange flavour with a refreshing hint of herbs and spices.
Can you drink Aperol neat?
Yes, you can drink Aperol neat. However, it has quite a strong taste, which is why we would rather recommend it as part of a cocktail like the Aperol Tonic.
What other cocktails can I make with Aperol?
You can make various aperitifs, cocktails and long drinks with Aperol. Experience the recipe in different facets and find the perfect drink for you.