The Collins cocktail type is very closely related to sours and fizzes. Unlike the other two types, however, a Collins cocktail is served in a long drink glass and together with ice cubes. In addition, Collins cocktails are usually grained with a slice of lemon or cocktail cherry. The Collins cocktail type is a subgroup of long drinks. Due to its fresh taste, this type of cocktail has become increasingly popular in recent years. Unlike most other cocktails, a Collins is usually prepared directly in the glass. In other countries, it has become accepted that a Fizz Cocktail is also prepared in a cocktail shaker. In Germany, however, the cocktail is still traditionally prepared in a glass.
Trending Collins Cocktail Recipes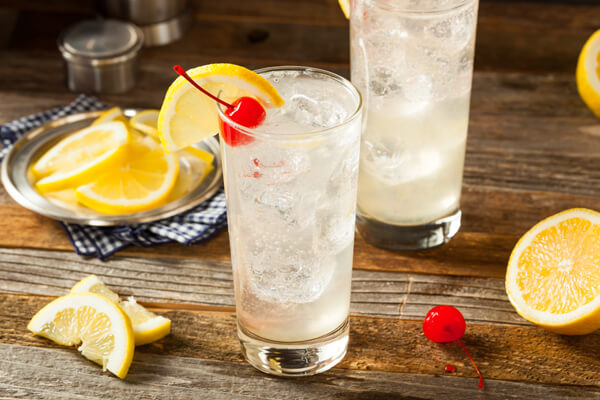 The Tom Collins cocktail comes from the USA and is very easy to prepare. Due to the gin boom since the 2000s, this drink has made its way back onto the menus of cocktail bars and has since become indispensable. The cocktail is incredibly refreshing and light, making it particularly suitable for the summer.
Collins Cocktails were invented in the early 19th century by the bartender John Collins at Limmer's Hotel. The barman mixed genever, sugar, soda water and lemon juice to create the first Collins cocktails ever. Later, he used Old Tom gin, which was much sweeter than genever, which also gave rise to the name of the most famous Collins cocktail: Tom Collins. Sometimes whiskey was also used in the production of Tom Collins cocktails (especially in America). This drink was later renamed the Colonel Collins. Other variations use basic spirits such as Calvados (Jack Collins), white rum (Pedro Collins) or cognac (Pierre Collins).
Basically, the preparation of the various Collins cocktails is always the same. In the large Collins family (almost) all Collins cocktail variations are listed. The preparation of these Collins cocktails is exactly the same as with the Tom Collins, except that they always swap the base spirit, so for example with the Jack Collins Calvados instead of gin and with the Ron Collins brown rum instead of gin.
"Collins" is English and loosely translated means something like "shoemaker". However, this has nothing to do with the cocktails. Collins drinks are closely related to the cocktail type: Fizz. The main difference between the two cocktail types is that Collins drinks are stirred in a glass and Fizz drinks are prepared in a cocktail shaker. In addition, Collins cocktails are usually infused with soda.