Tiki cocktails are a special and very popular type of cocktail. There are even some "Tiki bars" where the Caribbean spirit is exclusively spread. However, Tiki cocktails are less common in professional cocktail bars. In them, you can usually only order the Zombie, Mai Tai and the Hurricane.
Trending Tiki Cocktail Recipes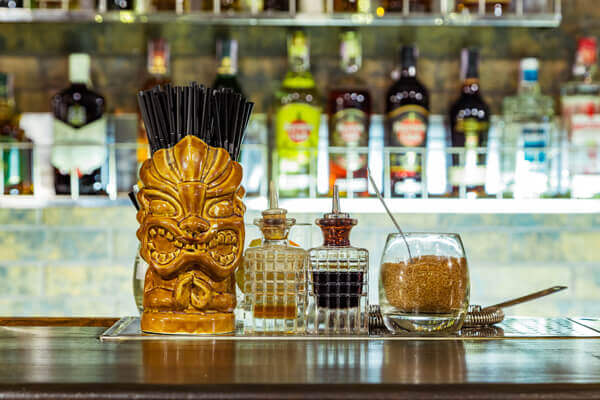 Unfortunately, there is no real definition of what a Tiki cocktail is. However, different types of rum and crushed ice are characteristic of Tiki cocktails. In addition, the drinks usually contain a variety of citrus fruits and sugar. Furthermore, tropical fruits are always associated with Tiki cocktails.
By the way, the word "tropical" is meant very seriously here: a passion fruit, orange, pineapple or coconut cannot be missing when enjoying a Tiki drink. The big hype of Tiki cocktails was in the 40s and 50s. But even today, this type of cocktail is still very popular and is enjoyed in many places around the world.
What does a Tiki Drink taste like?
Tiki drinks are long drinks that are mostly dominated by the fruit juices and the sweetness of the fruit. This makes this type of cocktail particularly suitable for connoisseurs who do not want the alcohol taste to be in the foreground, but still want to taste it. However, the Tiki drinks can also quickly become dangerous, as the connoisseur forgets through the sweet taste that a lot of alcohol is hidden in the drinks. Spices, such as nutmeg as a garnish, can give the drink a special touch that sets it apart from many other drinks.