Champagne glasses are, as the name suggests, especially suitable for the enjoyment of sparkling wines (such as champagne, cava, Krimsekt, crémant and sparkling wine), but various sparkling wine cocktails or champagne cocktails, as well as aperitifs and digestifs can also be served in these glasses. The champagne bowls that dominated in the 60s and 70s have been replaced by the oblong glasses. Today, the sparkling wine from France is almost exclusively served in champagne tulips and champagne flutes. We personally prefer the champagne flutes, as this glass shape brings out the perlage and flavour of the champagne better.
What you can drink from the champagne glass
From champagne glasses, whether tulip or flute, you can enjoy sparkling wine cocktails and champagne cocktails, but also aperitifs and digestifs. The most popular cocktails in these categories are probably the Frech 75, Mimosa, Aperol Spritz and Hugo. Other well-known cocktails, such as the Dry Martini, Manhattan Cocktail or Daiquiri, on the other hand, should rather be drunk from a martini glass.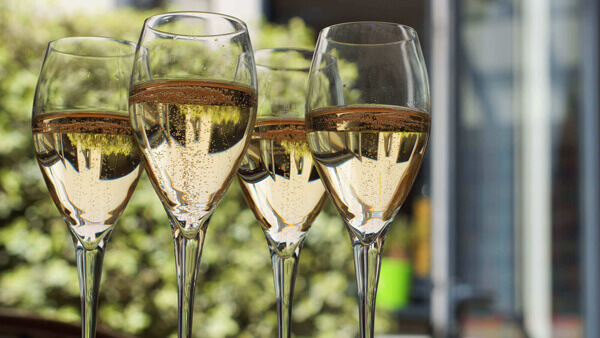 Differences between Champagne Flutes and Tulips
The champagne flute is said to have been invented as early as 1800. This glass has a long stem to protect the sparkling wine from warming. These glasses are only touched by the stem. The high, slender shape allows the perlage of the champagne to develop much better. In addition, the shape of the champagne glass ensures that the sparkling wine can be better absorbed by the nose.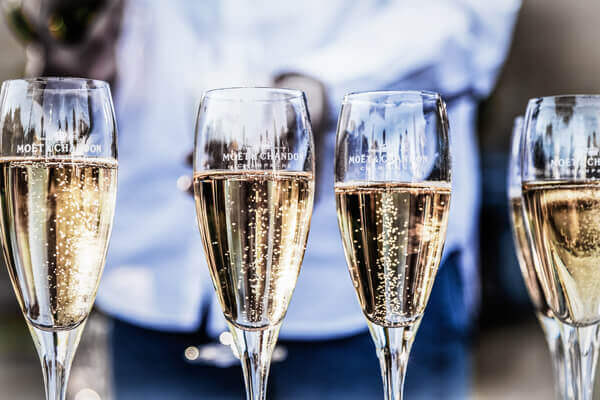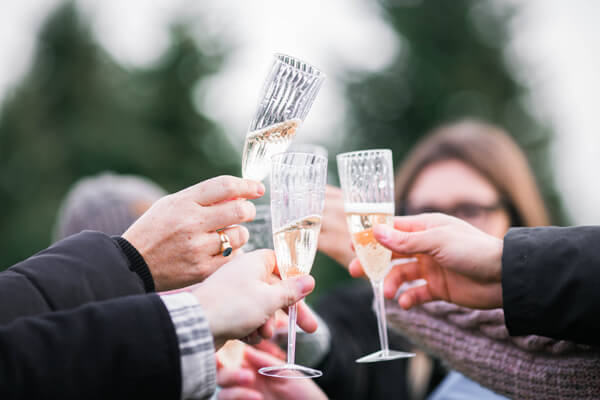 The champagne tulip is a cone-shaped glass that becomes thinner towards the top and bottom. The glass is thickest in the middle. This is followed by a short stem. This champagne glass is usually between 10 and 20 centimetres long.
What drinks are drunk from the champagne glass?
As the name suggests, it is mainly the French sparkling wine, champagne, that can be enjoyed from this glass. However, other sparkling wines such as Cremant and sparkling wine can also be drunk from this glass. Some cocktails, aperitifs and digestifs can also be served in this glass.
What is the difference between a Champagne flute and -tulip?
The champagne flute has a long, narrow shape, through which a beautiful perlage can be depicted. The tulip, on the other hand, is much thicker at the top than at the bottom. Cocktails, aperitifs and digestifs are preferably enjoyed from this glass.
What is the filling volume?
The filling volume of a champagne glass is between 15 cl and 30 cl. This depends on the shape and the size itself. Cocktails are preferably served in the larger glasses, while sparkling wine is served neat in the smaller glasses.
Where can I buy champagne glasses?
The glasses can be bought online, on the Internet. The selection there is much larger than in stationary shops. Moreover, you can easily exchange the products if you don't like them. From time to time, you can also buy champagne glasses in special lots in "normal" supermarkets.