Copper mugs are a special bar accessory that is preferred for cocktails such as the Mint Julep and the Moscow Mule. The copper mugs look elegant and stylish. Drinks served in these cups look particularly refreshing and fruity. But why are some cocktails drunk from copper mugs and not from normal glasses?
The enjoyment of Moscow Mule from these cups is due to an ingenious marketing ploy by the well-known vodka manufacturer, Smirnoff. You can find out more about Smirnoff on our Best Vodka page. What did Smirnoff do to get the cups used. The manufacturer tried to establish the previously unknown vodka on the American spirits market. To do this, they teamed up with a lemonade manufacturer and used the old Moscow Mule recipe, which was included with every bottle sold. Every bar that bought vodka and ginger beer got a free copper mug. This strategy triggered a real vodka boom that continues to this day, and all thanks to the free copper mug.
The copper mug and its cocktails
The Moscow Mule is classically served and enjoyed in copper mugs. Another cocktail served in this cup is the well-known Mint Julep whisky cocktail. Both drinks are incredibly refreshing and therefore perfect for the summer. Of course, these drinks can also be served without the eye-catching cup, but these cocktails simply taste better in the copper cup, don't they?
Another positive effect for all bar owners: if you serve a Moscow Mule or a Mint Julep in a copper cup, other bar visitors will notice the eye-catching cup and often ask you which drinks are served in the eye-catching cup. If you do it cleverly, you will certainly be able to motivate one or two bar visitors to drink a Moscow Mule.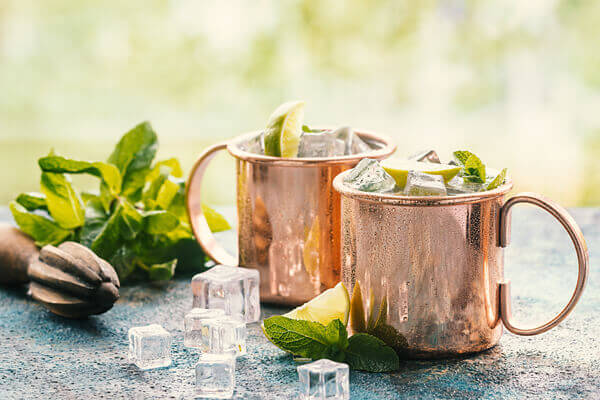 The copper mug and its features
The copper tumblers are characterised by a simple and timeless look. The tumblers are stylish and beautiful to look at, both in the home bar and in a professional cocktail bar. The cups usually have a filling volume of approx. 470 ml. If you buy a high-quality, slightly more expensive copper mug, the bar accessories may be made entirely of copper. This keeps the drink cool for longer and gives it the typical "glass sweat beads" after a short time, which once again emphasise the freshness of the drink.
Simply put, a copper mug is a mug made entirely of copper. It is usually used to serve well-known cocktails. However, it can also be used to simply drink soft drinks or fruit juices, but this is rather uncommon.
Why do people drink Moscow Mule from a copper cup?
It has to do with the introduction of vodka in America. The well-known manufacturer Smirnoff added a copper mug and a bottle of ginger beer to every bottle of vodka sold. The idea was to make the vodka and the Moscow Mule more popular in America. This marketing stunt worked very well.
What cocktails are served in the copper mug?
The most famous cocktail served in a copper mug is the Moscow Mule. Another well-known cocktail, the Mint Julep, is also excellent served in a copper mug. However, it is also common to serve this drink in a normal tumbler.