A bar spoon is an irreplaceable accessory in the preparation of cocktails and an absolute "must have" in your hobby or professional bar. It can be used to prepare all stirred drinks (such as the Negroni, Manhattan, Dry Martini or Mint Julep). Unlike the cocktail shaker, the ingredients are stirred with the help of a bar spoon, not shaken. This allows cocktails recipes containing only alcoholic spirits to be quickly stirred together and chilled without the ice dissolving too quickly and watering down the drink.
Bar spoons look similar to "normal" kitchen spoons, but there are some noticeable differences. For example, the spoon has a much longer handle (which is usually also twisted into a spiral) and a much smaller spoon surface. At the other end of the handle there is often a small surface with which fruit or citrus fruits can be crushed in a glass.
This bar accessory is a useful helper for a wide variety of tasks in a bar. On the one hand, all stirred cocktails can be prepared with the help of the spoon, on the other hand, the spoon can be used as a bar measure. Another useful function of the bar spoon is its use as a "surcharger". Many different layered shots can be prepared with this spoon.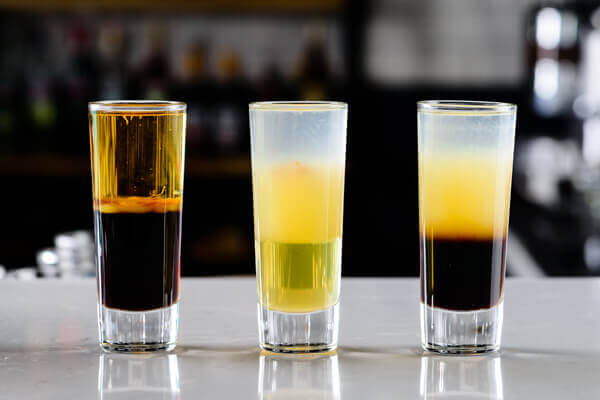 Any cocktail that is stirred, not shaken, can be prepared with the help of a spoon. The most famous stirred cocktails are Negroni, Manhattan, Dry Martini or Mint Julep. Get to know the cocktail recipes and enjoy your first self-stirred cocktails!
Different materials for measuring
Bar spoons are usually made of stainless steel or copper. Due to their beautiful, timeless shape, the spoons can survive for several decades if "well handled". You can often buy bar spoons, jiggers and cocktail shakers as a set. This gives all your bar accessories the same appearance, which will cause amazement among your guests and friends.
Another advantage of the bar accessories: You can use them to measure ingredients for cocktails. In some cocktail recipes, for example, the unit of measurement BL (abbreviation for bar spoon) is used. A bar spoon covers the filled spoon surface, which is approx. 5 millilitres or 0.5 cl. If you find the ingredient listed as BL but have a bar spoon at home, you can simply use a teaspoon. As a real hobby bartender, however, a bar spoon is just as much a part of your home bar as a cocktail shaker, a jigger and a bar strainer.
Layered Cocktails and Shots
The spoon is essential when preparing layered shot recipes and cocktails. Thanks to the spoon, two different spirits can be layered on top of each other. Without the spoon, the two ingredients would immediately combine. The best-known layered shot recipes are called B52 and Irish Flagg Shot.
How does it work exactly? The preparation of layered shots is basically quite simple. First you pour a spirit into a glass. Now hold the bar spoon very carefully over the spirit and carefully pour another spirit onto the spoon. Be very careful not to tip too quickly. Now the last spirit you poured will settle on the bottom spirit, creating a nice contrast. Theoretically, you can repeat this process as often as you like. Create an eye-catcher at your next party and prepare a layered shot.
Why some drinks are stirred
Drinks that consist only of alcoholic ingredients are always stirred. Stirring is perfectly sufficient to mix the different alcoholic ingredients. Try it out for yourself. You will be surprised how easy it is to stir with the bar spoon and how much fun it is to mix the different ingredients.
For cocktails that also use non-alcoholic ingredients, a cocktail shaker is used. By shaking, non-alcoholic and alcoholic ingredients also combine (more on this on our Cocktail Shaker page). So: Only alcoholic ingredients: Stir. Alcoholic and non-alcoholic ingredients: Shake!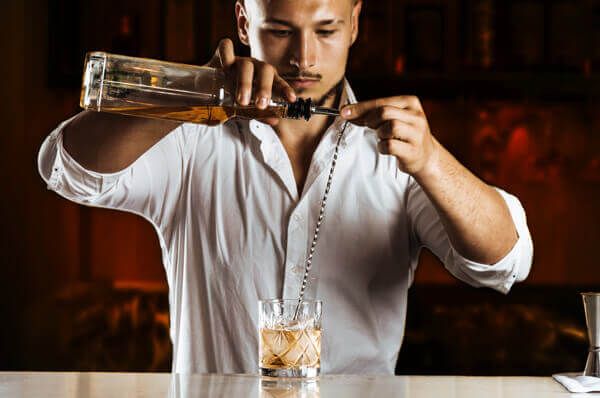 A bar spoon is an indispensable bar accessory that is used in the preparation of many cocktails and mocktails. On the one hand, the bar spoon can be used to stir different spirits in a mixing glass, and on the other hand, thanks to the bar spoon, no units of measurement can be measured. It can also be used to prepare "layered" drinks and shots.
Where can I buy a barspoon?
Bar spoons are mostly bought online. You can't actually buy this bar accessory in supermarkets. Every now and then, however, you have the opportunity to buy a bar spoon in wholesale markets. However, we recommend buying online. It is much more relaxed.
How much do bar accessories cost?
A spoon for the bar is usually relatively inexpensive. Of course, this always depends on the material and the manufacturer. However, you should be able to buy most bar spoons for less than 15 euros.
Which cocktails are prepared with it?
Here we could tend to list every cocktail. Sooner or later, mixed drinks always come into contact with a bar spoon. Particularly noteworthy are the Negroni, the Old Fashioned and the Cosmopolitan.
Do you absolutely need a bar spoon?
No, you can also simply use a tablespoon. However, the tablespoon is not as elegant as the bar spoon and cannot be used quite as well for stirring cocktails. However, if you are in the process of setting up a professional home bar, then you should definitely get yourself a bar spoon.